Contact Discover Wellness Within
We'd love to hear from you! Call us at (905) 878-5020

THE OFFICE IS NOW OPEN!
We have new office protocols in place to support and protect everyone post coivd-19. Please click here to review the our return to treatment-a patient guide
For Current Patients» New online scheduling
To promote social distancing, convenience and protocols, online scheduling is now available for current practice members that have been in for care within the last 3 months. To schedule your chiropractic adjustment please click the button below.
For New Patients and Reactivation for Current Patients » Please email or call us
Please call 905 878 5020 or email admin@discoverwellnesswithin.com to schedule your initial assessment.
CONTACT
Discover Wellness Within 379 Ontario St. S Milton, ON L9T 2N2
T: (905) 878-5020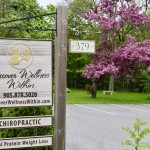 FIND US
Our office is located on the east side of Ontario St. between Derry and Main St. It is the first house south of E.C. Drury on the east side of Ontario St. South
---
Contact Discover Wellness Within | (905) 878-5020